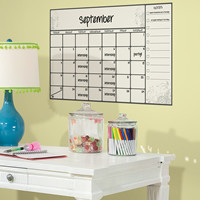 Chalkboard & Dry Erase Wall Stickers
RoomMates chalkboard and dry erase wall stickers give you a fully functional message board in just seconds - without the need for holes in your walls!
These wall stickers function just like full-sized chalkboards and dry erase boards, but can be removed or repositioned at any time.
RoomMates dry erase and chalkboard wall stickers are great for message centres, calendars, or just practising your drawing skills! You can put them up in the kitchen to tell your family what's cooking for dinner, or to keep your shopping list close by. Try sticking them up in your university lodging to keep track of homework assignments. Or use them in your bedroom to keep an eye on your social life! The possibilities are endless!