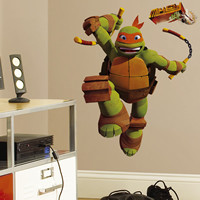 Teenage Mutant Ninja Turtles Wall Stickers
Bring Mikey, Leo, Donnie, and Raph into any room!
Whether you're a seasoned fan or a new enthusiast, kids and adults of all ages will get a big kick out of our Teenage Mutant Ninja Turtles wall stickers. These removable and repositionable designs are easy to apply, fully repositionable, and won't damage your walls or leave behind any yucky residue when they're moved around.
Kids can decorate their rooms with their favourite Turtle, whether it's Michelangelo, Leonardo, Donatello, or Raphael, or fill in a blank spot around their bed or desk with a giant wall graphic of the entire team. Stick our TMNT wall stickers up wherever you like, from bedrooms to play areas - they even work in the bathroom!