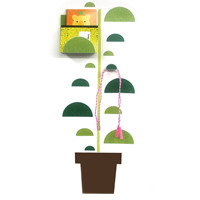 One Decor Wall Sticker System
ONE decor puts the "fun" in functional!
This totally coordinated collection of wall stickers, chalkboard wall stickers, shelves, and hooks will allow you to create your very own custom wall decor in just minutes. Combine wall stickers with shelves to store books, stuffed animals, or other accessories, or add a mini hook to hang bags, scarves, and more. Choose from several fun designs and add as many shelves or hooks as you please!
With ONE decor, you can be inspired by RoomMates' ideas... or create your very own combinations any way you want. The ONE decor family of products envelops your child in a fun environment with room to grow, discover, learn, and express themselves!